Restoring your smile after significant damage or trauma
Full mouth reconstruction, also known as full mouth restoration or rehabilitation, is the process of rebuilding, restoring or replacing most or all of the teeth in your upper and lower jaws.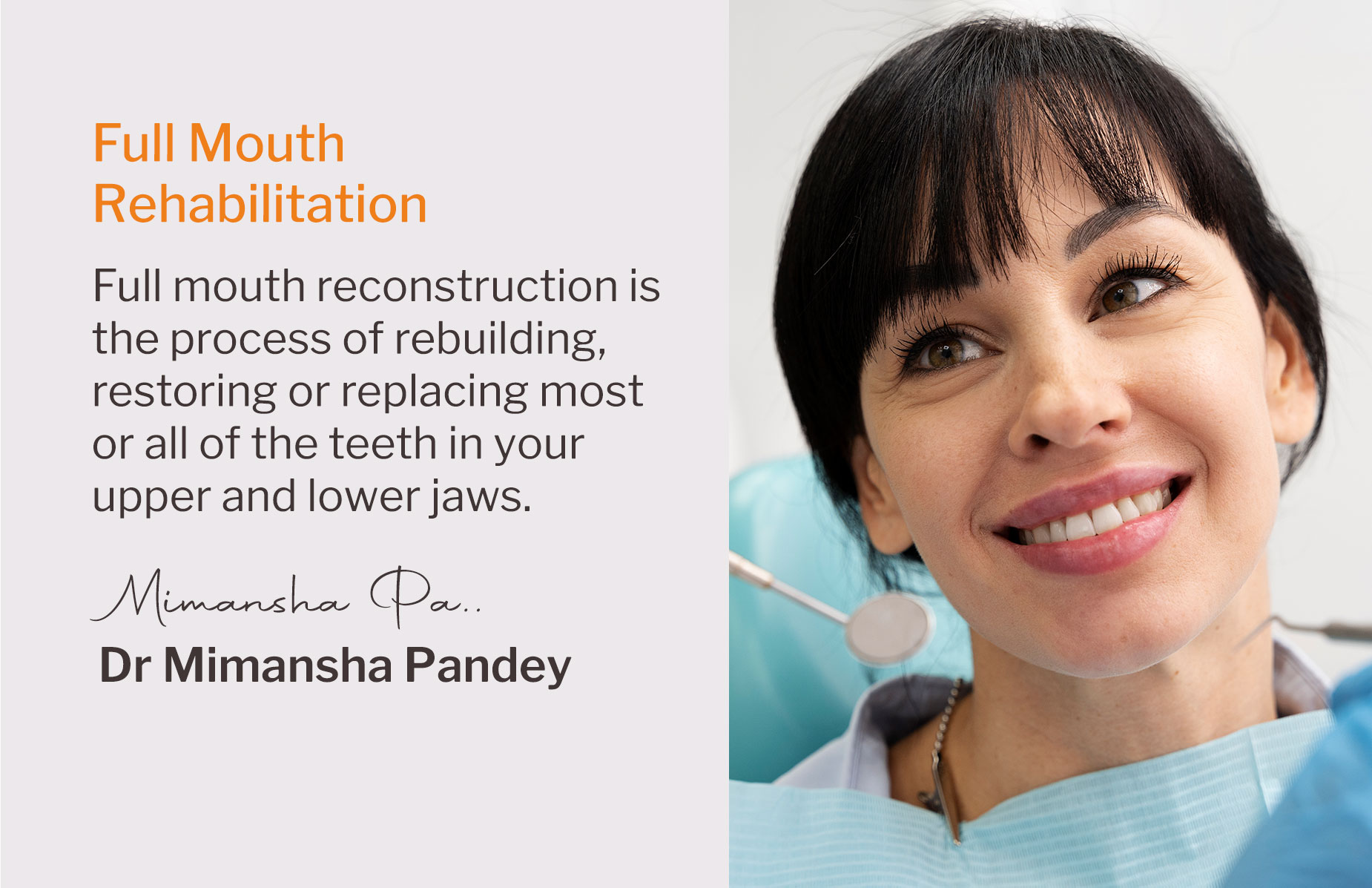 It may be an option to consider if you've experienced facial trauma, some chronic diseases (or even the medication that treats them), recreational substance abuse, or simply some lifestyle choices such as consuming too much sugar or junk food, or poor oral hygiene.
There's no doubt that a full mouth reconstruction is a very expensive, very time consuming treatment process. That's why we normally reserve it as a last step after we've tried more conservative and affordable treatments to address your situation.
Yet if your oral health has deteriorated and is causing ongoing health issues, a full mouth rehabilitation could be the key to restoring your teeth and your wellbeing.
Your treatment plan will be fully customised to address your specific oral health problems. We may recommend many different general and restorative dental treatments, such as:
Dental implants
Dental crowns or bridges
Porcelain veneers (on your front teeth)
Composite resin veneers
Removable dentures
Orthodontics
A combination of some or all these treatments
Depending on the dental treatments involved, your full mouth reconstruction could take anywhere from a few weeks to a couple of years to complete.
How a full mouth rehabilitation can restore your appearance
If your teeth are in very poor condition, the effects can be severe – not just on your oral health, but on your overall health and your appearance too.
If you have very broken down, progressively "patched up" dentition, it's quite likely that your face will have developed a sunken-in appearance over time. In fact, without healthy, normal teeth beneath, your whole facial profile can suffer – making you look much older than you are.
Using various treatments as part of a full mouth reconstruction, we can re-establish the natural vertical dimension of your face, and bring volume back to your face so that it appears to be naturally in the right proportion.
Understanding how your lips, gums, and teeth work together to present a beautiful smile is another crucial part of a full mouth rehabilitation. We can support your lips where needed, and even change the width of your smile to give you the very best result.