Cosmetic dentistry is the range of dental treatments aimed specifically at enhancing the aesthetics, colour and shape of your teeth. With the many modern advancements in dental technology, there is now a large range of cosmetic dental treatments available that can alter the appearance of your teeth and create a natural, whiter result while also helping to achieve good oral health.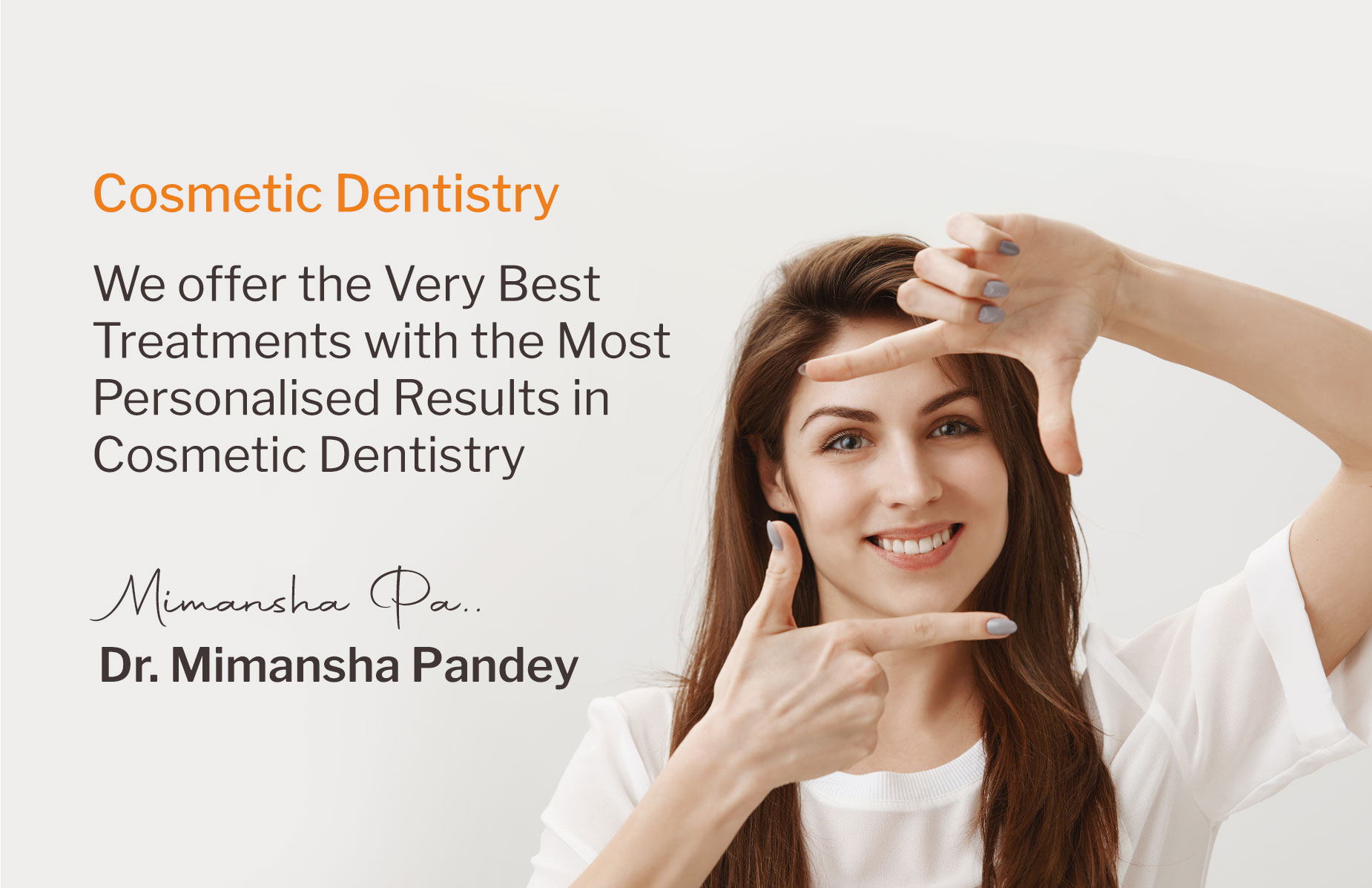 Cosmetic dental treatments may be used to treat a number of common aesthetic dental issues including crooked, cracked, discoloured, stained, chipped, missing, gapped, worn and overlapping teeth.
Cosmetic Dentistry
Teeth Whitening
Porcelain Veneers
Bonding
Dental Implants
Tooth colored Fillings
Dental Crowns and Bridges
Invisalign
If you would like a comprehensive assessment of your teeth's appearance and discuss the different options for enhancing their look, call our friendly team who can answer your questions and make an appointment to see one of our experienced dentists.
Cosmetic Dentistry Treatments, Not Because You Have To, but Because You Want To!
One of the most telling developments in dentistry can be seen from the fact that more people today see a dentist not because they have to but because they want to. Indeed, dentistry has extended from an oral care necessity to cosmetic enhancements towards a brighter, whiter smile. Towards that goal are many cosmetic dental treatments developed in recent times to correct a host of dental imperfections.
So to speak, cosmetic dentists are equal parts dental health as well as dental beauty experts who are focussed on enhancing the attractiveness of your smile on one hand, and preserving the health and functions of your teeth on the other.
Due to the rapid acceptance and popularity of cosmetic dentistry, many dental techniques and technology have converged in this field of dental care to provide new and better treatment options that were previously not available. Many of these treatment options overlap in terms of patient benefits yet extend unique and complementary services that yield outstanding clinical and aesthetic results.
Raising the Bar
While many general practitioners today also perform fillings, caps and crowns, cosmetic dentists raise the bar by delivering porcelain restorations and tooth-coloured fillings to make sure that your teeth and gums look great in the process.
Cosmetic procedures use state-of-the-art materials and techniques to produce natural-looking prosthetics in order to replace your missing teeth with stable and aesthetic results. Besides correcting your dental flaws, they also align your teeth, close gaps and remove yellowish stains.
Zero Compromises!
Although cosmetic treatments are known for achieving speedy and aesthetically pleasing outcomes, they are not in any way frivolous nor do they compromise on safety and dental health standards. Like all other dental procedures, cosmetic treatments are administered by professional dental practitioners in a safe environment, using clinically proven tools and techniques.
Your Healthy, Beautiful Smile Comes First at Face Value Dental (My Dentist Indore Clinic)
At Face Value Dental, we provide a comprehensive selection of cosmetic treatments that quickly and dramatically improve the look of your pearly whites whether in terms of alignment, shape or colour.
Backed by years of clinical experience and knowhow, we combine restorative treatment protocols with an extensive choice of cosmetic options to deliver "functional aesthetics".
You Want It? You've Got It!
Fancy a pristine and brighter set of teeth? Using the popular Zoom! Teeth Whitening system, we can lighten up your teeth by 8 shades in just one sitting (Clinical Study by Gallagher, Maggio, Bowman and Felix). If you have cracked or stained teeth, we'll cover them up with porcelain veneers that are so natural-looking no one will even guess you had them done. If you're dissatisfied with having crooked teeth but want to avoid wearing metal braces, we offer the modern teeth straightening option in Invisalign. Its use of clear plastic aligners will make your orthodontic experience more comfortable, discreet and aesthetically pleasing.
On top of cosmetic procedures, we also provide dental implants as a teeth replacement option that delivers both function and beauty. Using the latest implant techniques, we can help patients restore their missing teeth with unprecedented stability and natural-looking aesthetics.
Basically, Face Value Dental has all your cosmetic needs covered!
Is Cosmetic Dentistry for You?
The fact that cosmetic dentistry is designed to improve the appearance of your teeth does not by any means rule it as a frivolous or unnecessary type of procedure.
However, before you decide to undergo any cosmetic dental procedures, it may be best to ask yourself a few questions so as to determine whether or not you would make a suitable candidate.
Though not meant to be comprehensive, here is a list of questions that will help to rate your suitability for cosmetic dentistry:
Do you try not to smile too broadly because you're embarrassed by your protruding teeth or gums?
Do you subconsciously cover your mouth when you speak or laugh?
Are any of your front teeth missing?
Are your teeth crooked, stained or too small or large?
If you answered 'yes' to any of the above questions, there is a good chance that Cosmetic Dentistry may just be the thing you need.
That's because almost any appearance-related dental issue can be corrected with the Cosmetic Dental Services that we provide. From a simple teeth-whitening therapy to a total smile makeover, Face Value Dental in My Dentist Indore Clinic can deliver the best cosmetic options that meet your specific wants and budget. Treatment options depend on your specific dental situation and the exact look that you are after.