Gone are the days when braces were the domain of teenagers. Thanks to the creation of invisible aligners, anyone can now achieve beautiful straight teeth without the metallic look of the old days.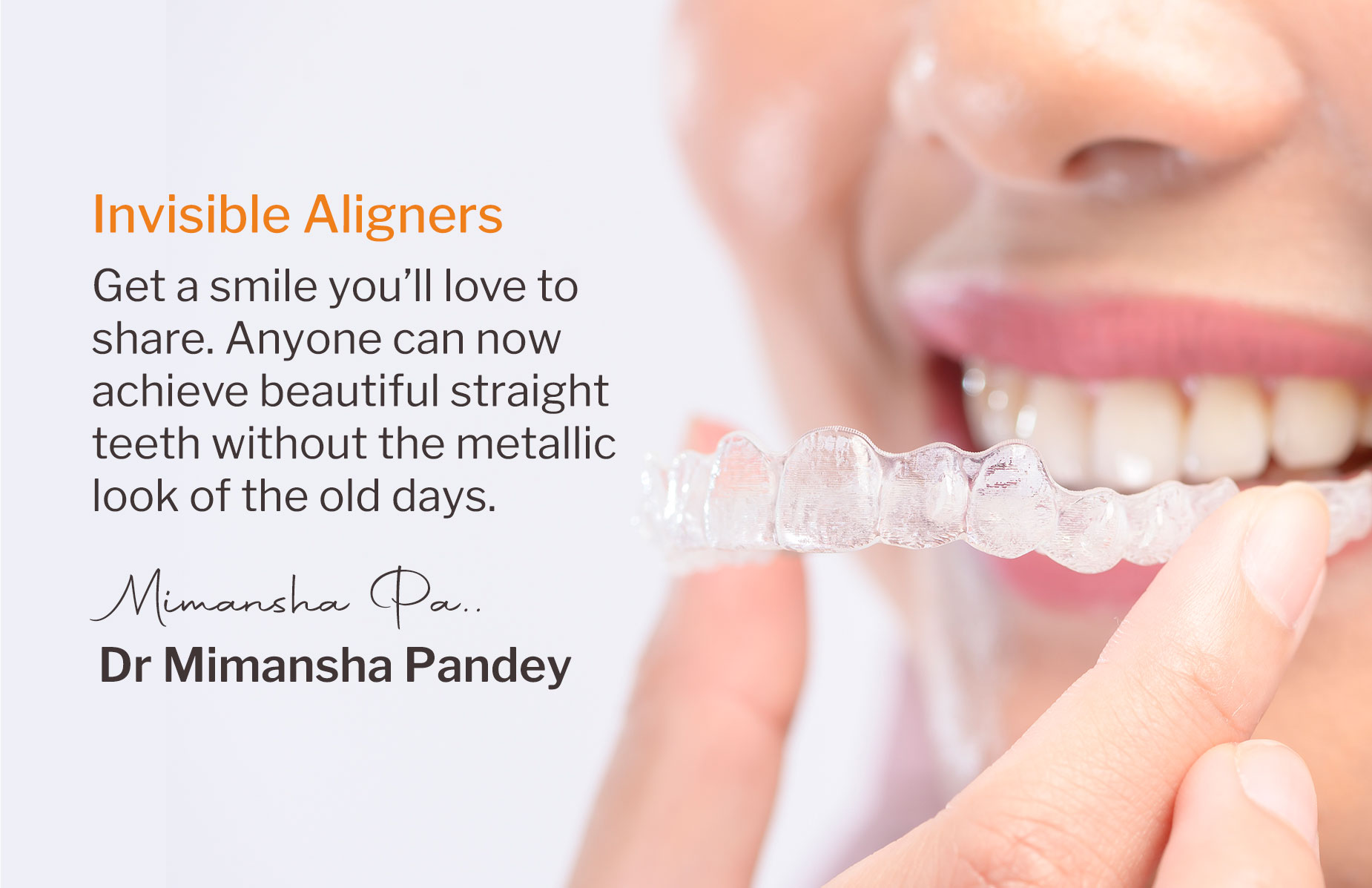 At My Dentist Indore Clinic we use leading brands to create the perfectly straight teeth you've always dreamed of. The experience is relatively fast, taking as little as six months in some cases. Invisible aligners are also convenient as they are not obvious on the teeth like metal braces. They can also be easily removed when eating.
If you're embarrassed about your smile and ready to correct your crooked teeth, come and chat to our team about invisible aligners today.
Step One
Digital Impressions are taken in-chair as we discuss your personalised treatment goals.
Step Two
Next Day you're digital treatment setup is ready. We'll send you a link you can view from home showing your planned movements, seen from multiple different angles. You can also come in for a more in-depth view and discussion.
Step Three
You will receive your invisible aligners and will start a one to two weekly rotation of each set.
Step Four
Once you have finished your program you will have beautiful straight teeth. Now you simply wear a night-time retainer to prevent relapse.
Who is eligible
There are multiple scenarios that will see Invisalign work for you or play an important role as part of your overall dental care plan.
These may include:
Patients suffering from severely crowded teeth through to treatment of minor previous orthodontics relapse
Teenagers and adults who want to straighten their teeth without the brackets of traditional orthodontics
Individuals who have forgotten to wear their retainer and have had teeth move since having braces
Individuals who want to straighten up the front teeth to have more confidence in smiling
Individuals who want to re-align a tooth to be able to have a denture, implant or bridge placed. Invisalign might help with the realignment of your tooth and accommodate other treatment options.
We welcome you to visit our dental clinic for an expert consultation regarding Invisible Aligners and how it could work for your specific needs and goals.